Collection: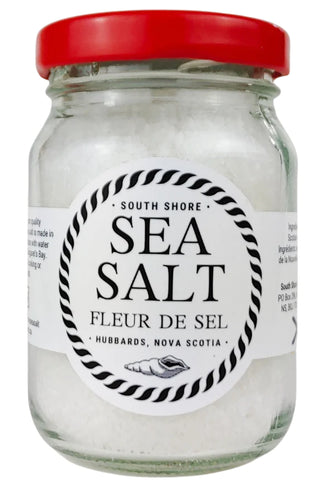 Collection:
Fleur de Sel, 90g
Fleur de Sel, 90g
Regular price

Sale price

$19.99
South Shore Sea Salt Fleur de Sel is the quintessential finisher.  It is great as a table salt, but amazing on popcorn, eggs, and , believe it, fudge brownie sundays with caramel sauce.
From South Shore Sea Salt:
Powerful Flavours from a Rugged Coastline
Our family-owned business produces premium sea salt in Hubbards, Nova Scotia, Canada.  We have been meticulously crafting our salt crystals from the waters of St. Margaret's Bay since 2018.
Sea salt is made up of many complex and delicious natural minerals, including sodium chloride (which you might know as table salt). These minerals vary depending on where your salt comes from, as each shoreline has a different mineral composition. This is why every sea salt is different, and has a unique flavour profile!
Our gourmet cooking salts are the perfect taste of Nova Scotia's natural landscape – crisp and electric, with an almost sweet finish. We recommend our salts for use in all your favourite recipes, seasoning sauces, spicing up snacks, or for adding a little something special to baked goods.
Ingredients: Nova Scotian sea salts