Collection: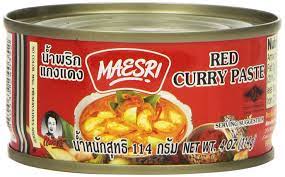 Collection:
Red Curry Paste, 114g
Red Curry Paste, 114g
Regular price

Sale price

$3.35
This product is a must have in the pantry.  It has the full flavour profile of a real Thai curry and no added preservatives.  This is what the restaurants use.  Just add coconut milk/cream and your meat and veg and you have an instant, dreamy, Thai curry.
ingredients: chili pepper, garlic, shallot, salt, lemongrass, sugar, kafir lime, galangal, spices.